Grupa Kęty Expands Casting Capabilities with Almex Billet Tooling Systems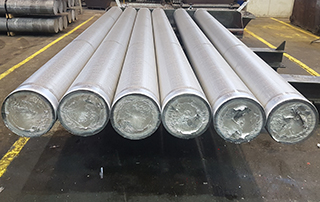 Buena Park, California, USA – March 2019 – Almex USA Inc. has successfully commissioned additional Billet Mold Tooling Systems for Grupa Kety, Poland. The project was commissioned and handed over in one week with Final Acceptance Testing completed on several alloys including 5083, 6082, 2014, 2024, 7075 and 7050.
This project completion marks an expansion by Grupa Kęty's casting product capabilities onto the original complete Almex casting line which includes a LARS® Degassing System, Optima™ Billet Mold Tooling Systems, MEGA Casting Machine, and CASTRIGHT II™ Automation Systems. The original line was installed to allow Grupa Kęty to cast aerospace and defense grade aluminum alloys to support their robust extrusion product offerings. The original project was commissioned in 2009.
About Grupa Kęty SA
Grupa Kęty SA, the mother company of the Capital Group, which consists of 25 entities located in Europe and the USA. The Company is a producer of sophisticated aluminium systems and components for various applications including: construction, automotive/transport, machinery industry, white goods and others. Also, one of their expertise is the production of flexible packaging for the food industry. Based in Kęty (South of Poland), the Company is a domestic leader with growing presence on the European market. Listed on Warsaw Stock Exchange since 1996, the group has gained a strong reputation in the market. More information on Grupa Kety SA is available at www.grupakety.com
About Almex USA
Almex USA is the leading supplier of commercial and aerospace alloy Aluminum Casthouse Processes with "Furnace to Finish" solutions. The company's products include LARS® degassing systems, MEGA™ DC casting machines, OPTIMA™ and EXCEL™ billet/ingot casting systems, and CASTRIGHT® II automated process control in addition to Melting & Homogenization Furnaces.  Almex is also engaged in equipment and process research involving new capabilities and green technology for efficient recycling of aluminum alloys and has been a supplier to the worldwide aluminum industry since 1995. Almex has the distinction of having supplied equipment and process recipes to make the largest slab and billet in the world, earning itself the "Excellence in Exports" Award from the United States Department of Commerce. For more information about Almex USA, visit www.almexusa.com  [Trade and Service Marks of Almex USA Inc. is registered property of the company and is protected in the United States and other countries.]
Media Contact
Marketing and PR, Almex USA Inc.
Tel: +1-714-739-0303
Email: marketing@almexusa.com