Almex RIGHT™ Slab Casting System is developed from critical end-use applications and diverse requirements. The technology, know-how, and process understanding required to push the boundaries of casting capabilities are inherent in all of Almex's tooling solutions.
With two centuries of combined hands-on casting experience, the latest generation of Almex slab tooling defines the industry standard for casting performance, operational + maintenance ease, and safety in the marketplace today. The RIGHT™ slab tooling system forms an integral part of the complete casthouse technology and equipment supply package provided by Almex.
Almex RIGHT™ tooling systems provide the optimum in casthouse performance, alloy flexibility, and size capability. As with all of Almex casthouse solutions, the slab tooling systems are based on three basic principles: Safety, Simplicity and Performance.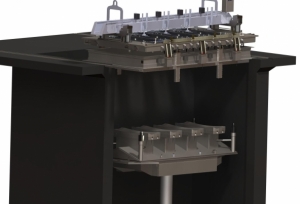 RIGHT™ Slab Casting Features
The auto lubrication supply mold system is designed to give minimum liquation thickness and enhanced aluminum recovery.

Stability of mold bore geometry is assured by design of section providing highest bend modulus. Beam type wall design gives the mold a required sturdiness to withstand rough handling or severe casting conditions involving high cooling water temperature and slow casting speeds.

Each mold is equipped with a pressure gauge to allow instant detection of minute water flow changes resulting from any variations in cooling water supply throughout the course of the drop.

Internal mold cleaning is made extremely simple by providing a removable bottom plate and internal baffle ring.

Water holes are configured so that heat transfer is achieved through water curtain rather than individual jet streams. This facilitates higher casting speeds and reduced sub-surface liquation band.
The surface areas of entry ports, baffle ring holes, and water ejection holes are maintained in such ratios that the pressure loss or water hammering does not occur inside the mold when increasing or decreasing water volume during the start up.

Specialized corner geometry keeps the edge ripples and the butt curl to a minimum providing smooth as cast surface.

Final delivery of lubricant is by anti-gravity capillary oozing action providing highly uniform lube supply. This assures uniform surface finish from beginning to the end of the drop.

Freedom in mold positioning (on mold table) allows complete concentricity between mold bore and starting head.

Mold crown optimized for specific alloy solidification shrinkage characteristics to ensure optimum scalping recovery. When several alloy series are to be cast on a single tooling size, the crown optimization is based on production requirements for each alloy and scalping recovery calculations.