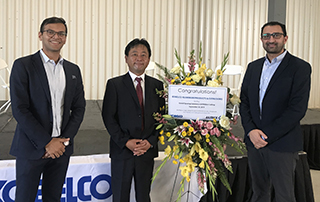 Kobelco Holds Opening Ceremony for Billet Casthouse in Bowling Green, Kentucky
September 2019 – Kobelco Aluminum Products & Extrusions (KPEX) held its Grand Opening Ceremony to celebrate the successful construction completion and operation of their Extrusion line, Fabrication line, and an Almex "Furnace to Finish" empowered hard alloy billet casthouse.
During Phase I, which was commissioned in 2016, Almex supplied KPEX with state-of-the-art Casting Technology and Equipment to produce high quality aluminum billets for extrusion and manufacturing of automotive parts (https://almexusa.com/news/casthouse-greenfield-for-kobe-steel-group). The immediate success played a large part in Kobelco's decision to award Almex the contract for the Phase II Casthouse Expansion, for which Almex supplied one 25MT Melting/Casting Furnace, one 32MT Traveling Homogenizing Furnace, one LARS-RL-36 Degassing System, one Grain Refiner Rod Feeder, and the complete Automation and SCADA Integration of the new equipment into the Phase I systems.
The opening ceremony was attended by local and state officials, customers, key suppliers, and senior executives from Kobe Steel, Japan. Kobelco continuously strives for perfection in their manufacturing, quality standards, and customer satisfaction, and Almex takes great pride in partnering with them for the second time to help them not just meet their goals, but exceed them!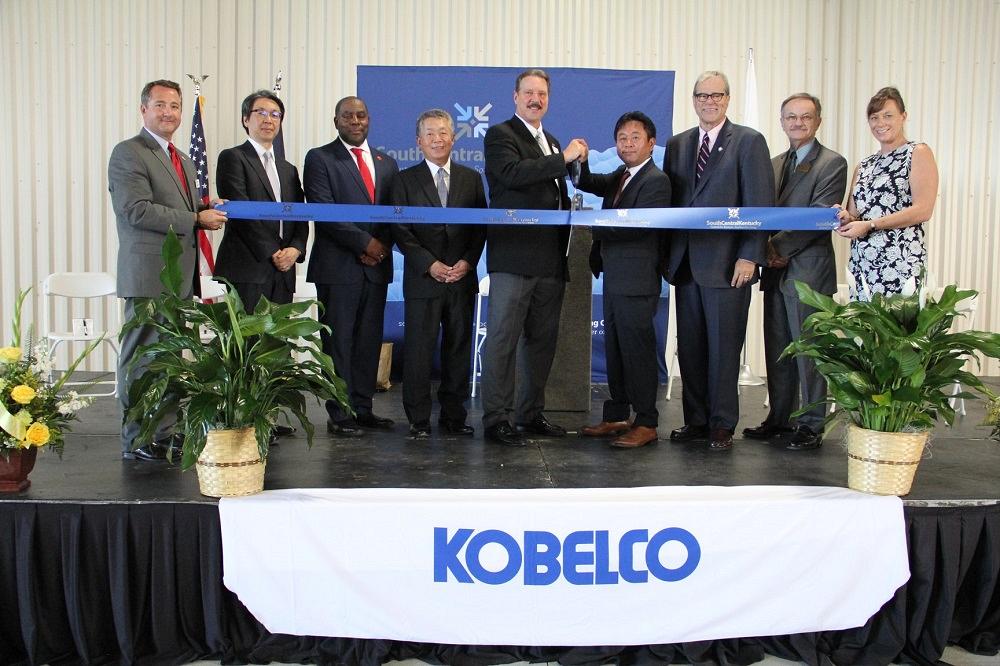 About Kobelco Aluminum Products and Extrusions
Established in April 2016, KPEX manufactures and sells bumper materials and car frame materials. These aluminum extruded products are increasingly being used in cars. In November 2018, KPEX began integrated production, ranging from melting and casting to the final manufacturing process of fabrication. KPEX makes use of Kobe Steel's original weight-reduction proposals covering both the development of high-strength 7000 series aluminum alloys and cross-sectional design technology cultivated in the Japanese market to gain the trust of its customers. Contributing to automotive weight reduction, KPEX strengthens Kobe Steel's supply network covering Japan and the U.S.
KPEX is Kobe Steel's second manufacturing location in Bowling Green after Kobe Aluminum Automotive Products, LLC (or KAAP), which produces aluminum forgings for car suspensions and aluminum cast rods for compressors. For more information, visit www.kobelco.co.jp/english/.
About Almex USA Inc.
Almex USA is the leading supplier of commercial and aerospace alloy aluminum billet and slab casting technology and process equipment.  The company's products include LARS® degassing systems, MEGA™ DC casting machines, OPTIMA™ and EXCEL™ billet/ingot casting systems, and CASTRIGHT® III automated process control.  Almex is also engaged in equipment and process research involving new capabilities and green technology for efficient recycling of aluminum alloys and has been a supplier to the worldwide aluminum industry since 1995. Almex has the distinction of having supplied equipment and process recipes to make the largest slab and billet in the world, earning itself the "Excellence in Exports" Award from the United States Department of Commerce. For more information about Almex USA, visit www.almexusa.com.  [Trade and Service Marks of Almex USA Inc. are property of the company registered and protected in the United States and other countries.]
Media Contact
Marketing and PR, Almex USA Inc.
Tel: +1-714-739-0303