SAFETY, PERFORMANCE, SIMPLICITY.
When technology is based on these three fundamental values, innovation and development thrive:
empowering us to elevate the craft and science of aluminum casting, equipment engineering, and process design.
Almex USA has been the independent technology provider of high-performance aerospace, hard alloy, and soft alloy aluminum casting systems and related equipment for over 25 years. Having invested deeply into research and development efforts in the fields of metallurgy, equipment design, and process safety, the company holds its intellectual property achievements through a variety of patents, trade secrets, copyrights, and trademarks. Almex holds over 25 patents in various countries worldwide, covering over 700 patent claims.
Several Almex engineers and R&D professionals each have 30+ years of hands-on experience in process technologies relating to advanced aluminum alloys covering melt treatment, casting, rolling, extrusion, and specialty thermo-mechanical processes that have enabled the company to develop its vast library of recipes, trade secrets, and know-how that complement the core competency of casting. Such critical process knowledge has allowed Almex to provide its know-how and technology on a unique license basis along with experiential knowledge of value-added downstream processing paths to some of the most strategic aluminum facilities worldwide.
One of the most value-enriching components of Almex's offerings remains its approach to "Furnace to Finish™" Solutions. Under this well-recognized slogan, Almex is uniquely able to provide a guarantee to its customer's customer's finished product; attesting to the worthiness of downstream processed products manufactured the 'Almex way.' This wholesome approach to engineering and product delivery is what enables the company to hold the record in casting both the world's largest billet and the world's largest slab: in both conventional and high-performance hard alloys.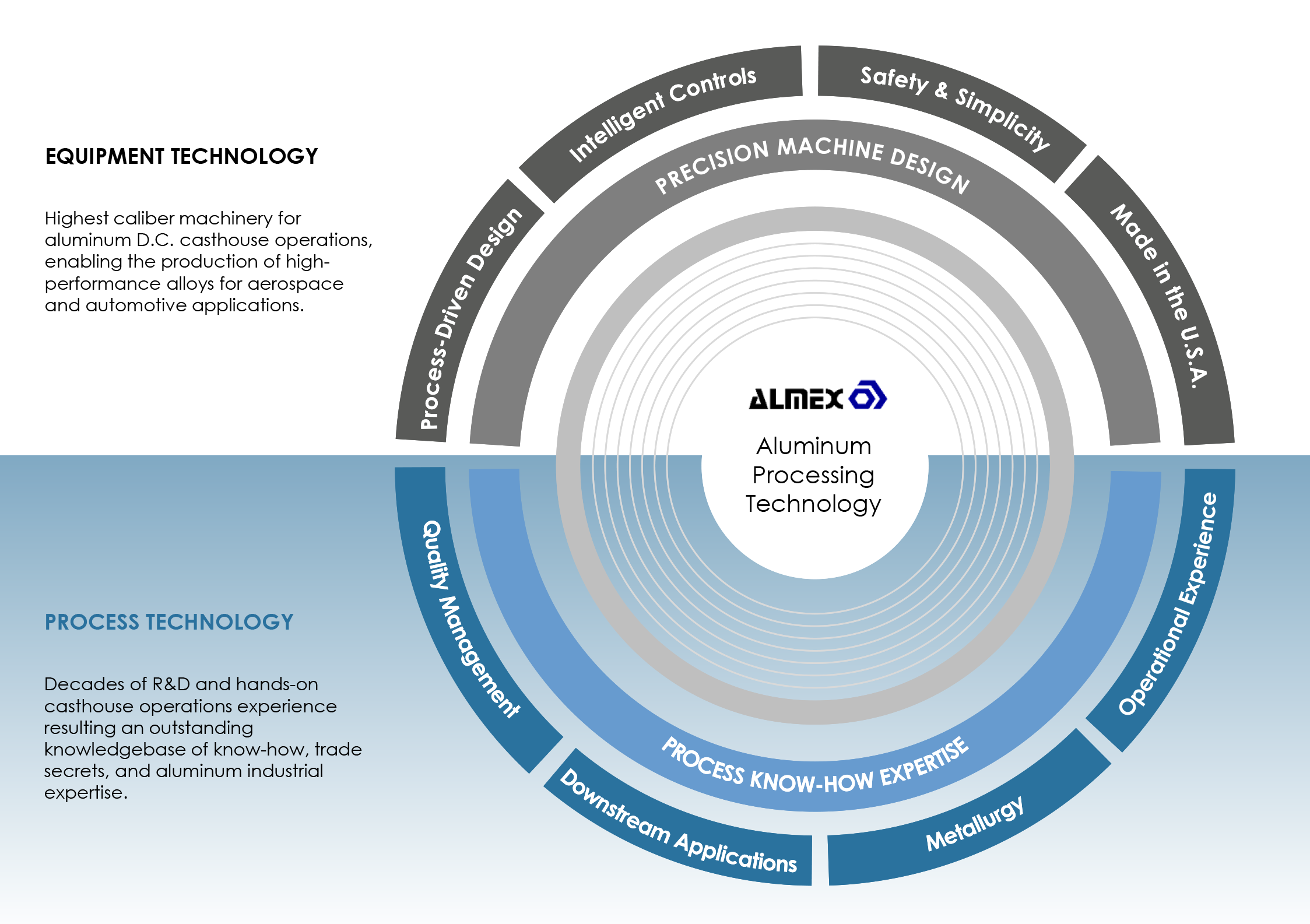 Almex Technologies and the Latest in Industry 4.0
Almex embraces industry-leading technologies and has developed its CASTRIGHT III™ Automation and Control System platform with the future in mind. The system's modular approach and scalable nature allows for plant personnel to monitor and control the plant on a granular level while simultaneously providing access control and transparency: key requirements of top-level quality management systems such as AS and TS aerospace and automotive standards.
Machine to Machine communication (M2M) and the latest in networked sensors, devices, and human-machine interface portals enable a web-connected experience with production, quality, and maintenance in mind.
Additional modules include mobile alarm advisory systems, casting video monitoring, and a wide selection of 3rd party equipment integration options.
Click here to learn more about our sophisticated and custom SCADA software for casthouse operations.
Next-Generation Materials Know-How and Expertise
Almex is a household name among R&D alloy development facilities developing the next breakthroughs in direct chill casting, additive manufacturing, nano-alloys, and hybrid metallic materials.
Among those, aluminum-lithium (Al-Li) alloys are today recognized as the next family of aluminum alloys ready for wider commercialization; primarily due to their low density, high specific modulus, cryogenic toughness, and excellent fatigue properties.
Almex's Al-Li process and equipment design experience dates over 20 years and our engineers and metallurgists constitute the only team worldwide providing a commercial Al-Li casting system for those plants looking to make the next step in the materials value chain.
Specialized Contract Research & Development
'It can be done' is the working philosophy at Almex. Our team believes in setting industry performance standards for equipment, processes and products which can only be achieved through innovation and extensive research and development efforts in the fields of metallurgy, automation, design optimization, and process improvements.
Almex routinely undertakes research for customers to develop and deliver specialized processes and products. Contact us and let's solve your problem. 
Turnkey EPC Supply of Process Plants
Since 2002, Almex has been active in supplying complete solutions to Owners inclusive of Engineering, Procurement, and Field Construction of aluminum melting and casting plants for wrought alloys. Almex has a California Class A License for this purpose and can deliver projects and supplies under Surety Bonds and Performance Bonds, as may be required. Such a Class A Contractor License permits Almex to construct metallurgical plants from planning to erection, and all the way through the commissioning stage; and is in fact the same license needed to build refineries, power plants, and dams.