Gränges Americas Improves Molten Metal Quality with Almex USA LARS® Degassing and Purification Systems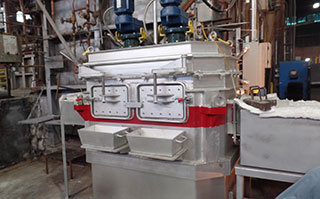 Buena Park, California, USA – October 2019 – Almex USA Inc. has successfully commissioned four LARS® Degassing and Purification Systems for Gränges Americas Inc., a wholly owned subsidiary of Gränges AB, the world's largest manufacturer of rolled products for heat exchanger industries. One pair of LARS® systems were installed at Gränges' plant in Huntingdon, Tennessee on the company's twin-roll sheet casting lines, and two more were installed at the Salisbury, North Carolina facility. Both locations are a part of Gränges AB's 2016 acquisition of the former Noranda Aluminum's rolling business, and currently produce 1xxx, 3xxx, and 5xxx series alloys for end-product applications in HVAC, packaging, and electrical transformers.
The custom-designed Almex LARS® RL-2 model incorporates a uniquely designed reaction chamber, two-rotor gastrain system, and Almex's proprietary electrical heating system for metal temperature control. The supply is complete with PLC & HMI Control systems and outfitted with Inert Gas and Halogen Gas Administration systems built to the rigorous UL508A industrial control panel standards. Almex's comprehensive knowledge and proven track record in melt treatment and purification, coupled with the LARS® system's unique performance inclusive of finished product warranties, were said to have been the deciding factors in the selection of Almex USA as Gränges' equipment and technology supplier.
About Granges
Gränges is a leading global supplier of rolled aluminium products for heat exchanger applications and other niche markets. In materials for brazed heat exchangers Gränges is the global leader with a market share of approximately 20 per cent. The company develops, produces and markets advanced materials that enhance efficiency in the customer manufacturing process and the performance of the final products. The company's geographical markets are Europe, Asia and the Americas. Its production facilities are located in Sweden, China and the United States, and have a combined annual capacity of 420,000 metric tonnes. Gränges has about 1,800 employees and net sales of SEK 13 billion. The share is listed on Nasdaq Stockholm. More information on Gränges is available at www.granges.com
About Almex USA
Almex USA is the leading supplier of commercial and aerospace alloy Aluminum Casthouse Processes with "Furnace to Finish" solutions. The company's products include LARS® degassing systems, MEGA™ DC casting machines, OPTIMA™ and EXCEL™ billet/ingot casting systems, and CASTRIGHT® III automated process control in addition to Melting & Homogenization Furnaces.  Almex is also engaged in equipment and process research involving new capabilities and green technology for efficient recycling of aluminum alloys and has been a supplier to the worldwide aluminum industry since 1995. Almex has the distinction of having supplied equipment and process recipes to make the largest slab and billet in the world, earning itself the "Excellence in Exports" Award from the United States Department of Commerce. For more information about Almex USA, visit www.almexusa.com  [Trade and Service Marks of Almex USA Inc. are property of the company registered and protected in the United States and other countries.]
Media Contact
Marketing and PR, Almex USA Inc.
Tel: +1-714-739-0303
Email: marketing@almexusa.com