Almex's award-winning "

furnace to finish

" solutions are developed + engineered by a qualified team with over two centuries of combined experience in the aluminum industry.
What does "

furnace to finish

" mean?
Actually, it's pretty close to how it sounds — "Furnace to Finish" encompasses all the equipment and technology beginning with the melting furnace down to the finished end-product inspection (of billets and slabs) in a DC casting operation, inclusive of automation and control systems. Almex understands that one size doesn't fit all, especially when considering the unique needs of each customer, which is why our wallet-friendly casthouse solutions are fully customized for each plant's unique specifications and requirements.
almex-admin
2019-04-11T09:41:26-08:00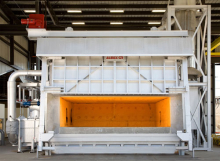 Melting and Homogenization Furnaces
Why Turnkey Supply?
By providing the turnkey casthouse solution, Almex can provide a unique product guarantee tied to your customer's satisfaction.
A turnkey solution means a holistic approach to human safety and equipment safety, complete with detailed risk analysis and operation management.
Your project should be in running a high quality and high efficiency enterprise Don't let the details of multiple equipment supplier management and detailed engineering questions become the project instead. Focus on business, we'll focus on building.